OVERVIEW
Attorneys seldom go anywhere without their computers or phones. They are convenient, affordable and most of all, come with a lot of memory. Unfortunately, one of the most powerful memory tools we own is seldom plugged in and often fails. Brain freeze? Memory lapse? Senior moments Whatever you call it, thousands of attorneys have experienced it. The good news? You CAN do something about it!
The benefits of improved memory are endless:
Save time in court preparation

Make polished presentations to jurors and judges without notes

Become a better listener in the courtroom

Cross-examine with confidence

Remember names of jurors in trials and clients in other professional settings

Develop better concentration

Reduce stress, worry less about forgetting to make a crucial point
You have invested years in becoming an attorney and months in preparing a case. Invest one day to strengthen your mind and achieve these goals:
Think quickly and clearly without fumbling for notes

Remember important information about a jury and use it to win cases

Effectively recall facts from research and interviews
Join nationally recognized memory training consultant, and veteran ICLEF Faculty Member Paul Mellor, for a session that will improve the way your mind retains facts. Learn techniques to improve your everyday practice. Mellor's objective is to show you how a trained memory can increase your efficiency and productivity in all aspects of law. He will help you lay a foundation for total recall.
AGENDA
8:30
A.M.
Registration
8:55
A.M.
Welcome & Introduction
9:00
A.M.
Deposition Demonstration
Introduction with demonstration displaying the lighting speed
of a trained memory. You will see the ease of remembering
information from a deposition. Emphasis is placed on why we
forget and how we remember.
10:30
A.M.
Coffee Break
10:45
A.M.
How to Speak Without Notes to Jurors
Discover secrets on how to present a case without notes.
Learn step-by-step techniques on how to draft your remarks,
prepare your mind, and deliver a powerful presentation. To
keep the jury in the palm of your hand, you'll have to let go
of your notes.
12:15
P.M.
Lunch Break (on your own)
1:15
P.M.
Cross Examination with Confidence
Using the two-step formula in recall, you will acquire the skill
in remembering to ask key questions during cross-examination.
Use of many examples and illustrations help reinforce the
proficiency

when dealing with those on the witness stand.
2:45
P.M.
Refreshment Break
3:00
P.M.
Remember Names and Faces of Jurors in Trial, Clients in the
Presentations, and in Other Professional Settings
You will learn the FACIAL Formula to quickly remember a
name. Attention is placed on concentration techniques and
focusing on recalling the name correctly. Use of pictures and
examples create a proven system in correctly matching a name
to a face. You will learn how to remember first names, last
names and groups of people.
4:30
P.M.
Adjourn
BONUS! BONUS! BONUS!
Your registration includes Mr. Mellor's book, Memory Skills for Lawyers.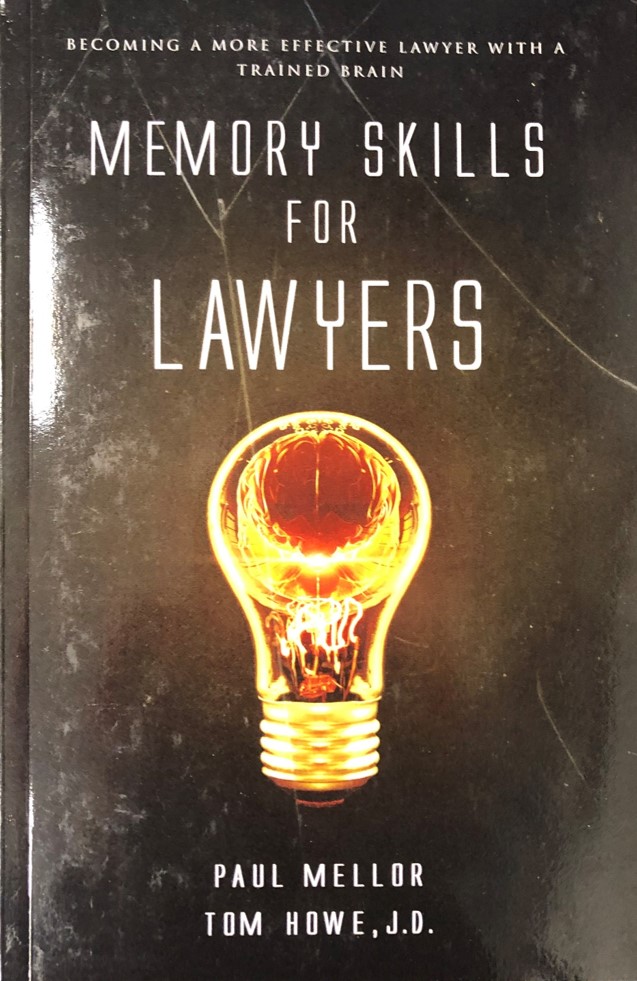 Reviews from ICLEF Participants of Paul's program
- Excellent speaker. Very good application for us. Also helpful to focus on
"soft" skills of law versus all black letter.
-

Outstanding program & presenter.
-

Very interesting & helpful!
-

Very helpful and clever suggestions.
-

Extremely interesting, superbly presented - and useful!
-

Could not be better or more interesting.
-

Excellent! So applicable to our practicing law!
-

Well prepared and impressive.
-

Unique - useful training that is applicable professionally and personally.
Really enjoyed his enthusiasm and passion. The variety of techniques
is fascinating.
-

Very impressive! Very interesting!
-

He was a fantastic speaker - one of the best I have heard at any CLE.
-

Challenging! Practical application, superb delivery! A genius in his field!
-

Very entertaining. Appreciated the applicability to both law & everyday life.
-

Presentation was very interactive - great teaching techniques (held
everyone's interest).
-
Outstanding. Excellent presentation & subject matter highly relevant.
---
HOTEL ACCOMMODATIONS
:
Please make your reservations with the
Hilton Indianapolis Hotel and Suites
by

CLICKING HERE

or calling
317.972.0600
.
Please mention ICLEF when calling to book your reservation.
Rates and
r
eservations are subject to availability.